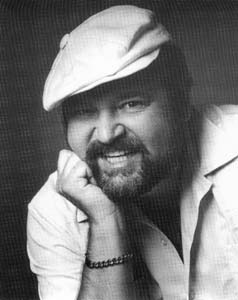 Name:
Dom DeLuise
Occupation: Actor/Comedian
Genre: Film/Television
Born: August 1, 1933
Died: May 4, 2009
If nothing else can be said about this phenomenally talented comedic actor, it's that he definitely lived out his life to the fullest extent. He was an actor, comedian, producer, chef, husband, father, author, singer, and director. He was also a Golden Globe and Daytime Emmy Award nominee, and has a
Star on the Hollywood Walk of Fame
.
He rubbed elbows and continually brought tears of laughter to the likes of
Johnny Carson
,
Dean Martin
,
Mel Brooks
,
Gene Wilder
, and his longtime friend
Burt Reynolds
.
Graduating from Manhattan's High School of Performing Arts, DeLuise started his career as a regular performer on the short-lived television show
"Tinker's Workshop"
in 1954.
DeLuise worked regularly in films and television shows throughout the 1960s, most notably on
"The Dean Martin Show"
in which he made famous his character Dominick the Great, a failed Italian magician. His career thrived throughout the 1960s and 1970s as he appeared on
"The Entertainers"
,
"The Flip Wilson Show"
, and
"The Carol Burnett Show"
. He was also a frequent guest host of
"The Tonight Show Starring Johnny Carson"
. DeLuise twice had his own short-lived TV series and, in the early 1990s, was the host of
"Candid Camera"
.
Aside from his steady television appearances, which continued through the end of his career, DeLuise began landing roles in a myriad of successful films in the 1970s including
Who Is Harry Kellerman and Why Is He Saying Those Terrible Things About Me?
,
Sextette
(
Mae West
's final film),
The Adventures of Sherlock Holmes' Smarter Brother
, and
The Muppet Movie
.
His team-up with Mel Brooks (beginning with the film
The Twelve Chairs
in 1970) was a match made in Heaven. DeLuise's film career was catapulted to a whole new level in 1974 when he was cast in Brooks' classic film
Blazing Saddles
. Brooks would go on to cast DeLuise in the films
Silent Movie
,
History of the World, Part I
,
Spaceballs
, and
Robin Hood: Men in Tights
.
He was also directed by Brooks' late wife, the great
Anne Bancroft
, for the fantastic (and in my opinion vastly underrated) film
Fatso
in 1980.
The 1980s brought another great surge to his career with his popular performances in the films
The Cannonball Run
,
Cannonball Run II
,
Smokey and the Bandit II
,
The Best Little Whorehouse in Texas
,
Johnny Dangerously
,
Loose Cannons
, and (one of my all-time favorites)
Haunted Honeymoon
.
DeLuise was also highly beloved among audiences young and old for his voice-over work in some of the most memorable animated films of that time including
An American Tail
,
The Secret of NIMH
,
All Dogs Go to Heaven
,
Oliver & Company
, and
An American Tail: Fievel Goes West
.
Dom DeLuise died in his sleep at the age of 75 in Santa Monica, California, after being hospitalized for respiratory problems due to high blood pressure and diabetes. He battled a weight problem for most of his life, sometimes weighing 325 pounds or more. He is survived by his wife of 43 years,
Carol Arthur
, their three children, and three grandchildren.
Frequent costar Gene Wilder said of Dom: "He was the funniest man, in person, that I've ever known."
And Mel Brooks was quoted to say: "Dom DeLuise was a big man in every way. He was big in size and created big laughter and joy. He will be missed in a very big way."
I have long been a fan of Dom's superb comedic timing and overall charm. Below is one of my dearest and most longstanding memories of him from the film
Haunted Honeymoon
in which he performs the song "Ballin' the Jack" with the late comedienne
Gilda Radner
.